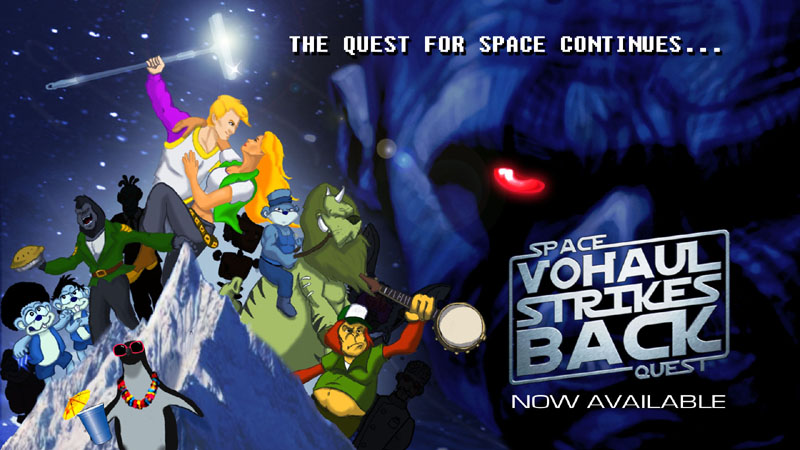 You better believe it's real this time.
It's a game ten years in the making, and follows 16 years after the cancellation of the original Space Quest series. And out of the dozens of Sierra fan-games made over the years, it's the first actual full-length sequel (TSL doesn't count because episode 5 isn't finished yet. So we win!)
In this game, you help space janitor Roger Wilco sort out another bad case of his girlfriend, the planet, and the galaxy needing saving. Along the way, he learns some very important life lessons, escapes death-defying situations and makes some hairy new friends. It's loaded with clever puzzles, tons of original characters, over a hundred beautifully-painted backgrounds, awesome music, hilarious dialogue, and lots of half-assed Flash animation from myself. Also: monkeys.
Click here to go download it now!
In the following weeks, expect to hear a lot more Space Quest-related news from me. In the last six years, this has been one of the top three things to eat up all my time and it's FINALLY DONE. I'm in a self-promoting mood right now, so I'll be keeping an eye out for any positive reviews or mentions on popular sites. Not to mention VSB is just the beginning when I consider what's around the corner…
Oh, yeah – MERRY CHRISTMAS! 😀
December 24 2011 | Art, Awesomeness, Daily Life, Holidays, Stuff I Made, Video Games | 5 Comments »